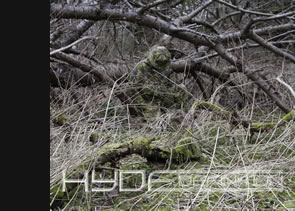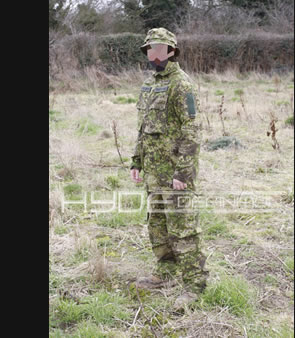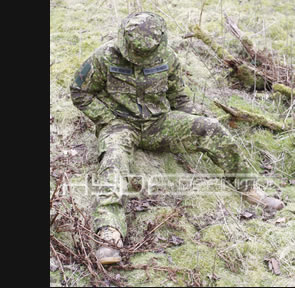 Effective camouflage defeats the ability of the observer to detect or recognise the wearer – and a split-second reduction in detection or recognition can mean the difference between life or death.
But there are serious problems with existing camouflage patterns:
• "woodland" camouflage schemes are too dark for all other types of terrain or environments
• "desert" camouflage schemes are often just a recoloured version of a woodland scheme – and usually too specific to a certain type of desert
• "universal" and "all-terrain" camouflage schemes are often such a compromise that they are ineffective in many environments
• mismatched patterns on clothing and individual equipment erodes the effectiveness of either pattern
• many new "pixelated" camouflage patterns are simply following a fashion trend and not well-researched or well-executed
Clearly, what was needed was a radical re-examination of the problem and an innovative, hybrid design – not an imitative or simplistic approach.
Solution: The PenCott Multi-Environment Camouflage Pattern Family
Here at Hyde Definition we looked at the challenges of concealment from many points-of-view, we studied the natural camouflage of all manner of living creatures, we analysed recent design and market trends, and we also took a look back at effective historical patterns to identify key features and elements that work particularly well.
Click on the images above to enlarge. Please note that these are computer simulations.
Cross-referencing this bank of knowledge with the most frequently found colours in nature, together with data relating to operating environments and tactics, we then evolved the PenCott™ pattern through several hundred iterations, trialing over two dozen samples in natural environments.
What we ended up with is a ground-breaking, natural-looking, hybrid digital pattern that uses a complex mixture of blending and disrupting techniques in order to more effectively defeat an observer's ability to detect and recognise the wearer.
The PenCott Multi-Environment Camouflage pattern family is based on a common, fractal-based, multi-scalar pattern geometry – with separate, colour-optimised, environmentally-adapted variations.
The unique benefits of PenCott:
• conceals more effectively at all typical engagement distances
• conceals more effectively at much closer distances than other patterns
• conceals more effectively in multiple environments and terrains
• provides a dramatic improvement in concealment over currently-available patterns
Our original pattern variant for temperate and tropical environments, PenCott-GreenZone™, has had a huge amount of interest from all over the world – and has been successfully tested and proven effective by users in the UK, US, Europe, Canada, Australia and New Zealand (so far)...
What's in a name?
The PenCott pattern is named after two influential World War Two British camoufleurs: Sir Roland Penrose and Hugh B. Cott. Penrose and Cott differed radically in their approach toward camouflage._ Penrose, as an artist, used his training and design talents to produce "artistic" camouflage schemes through a process of trial and error. Cott, on the other hand, felt that camouflage was essentially an analytical/scientific process_ and that by studying examples of camouflage in nature, effective schemes could be developed without the need for artistic training.
At Hyde Definition we recognise that both approaches have their merits and need not be mutually exclusive. Our PenCott pattern exhibits a combination of art and science, and so who better to name it after than these two stalwart pioneers of the craft?
Further information:
To see photos of PenCott in use, visit our Gallery.
To buy PenCott clothing, visit our Shop. (*currently out of stock*)
To be kept informed of further developments, join our Mailing List.
For details about licensing or selling PenCott, please contact us.