"Become one with your environment" reads the strapline for SABRE's 'Ghostwalker gear' line-up in PenCott-SnowDrift™.
The complex design of the PenCott™ family does indeed look more organic and natural than other patterns.  The combination of multi-sized fractal shapes, dithered boundary layers and 360° pattern geometry disrupts the shape of the wearer and blends into the terrain with amazing effectiveness.  So we can totally understand why Sabre chose this strapline and product family name.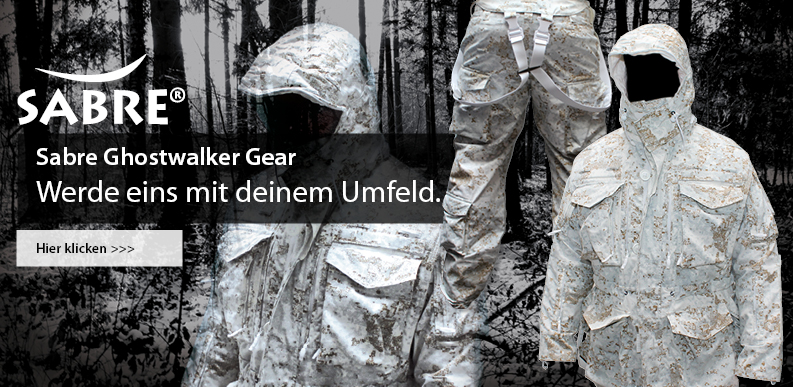 Developed with input from the Sniper cadre at the International Special Training Center (formerly known as the International LRRP School) in Pfullendorf, Germany, Sabre's Special Forces Smock, Gen.III and Sniper Trousers, Gen.II are renowned within the ranks of German and NATO special Operations Forces – and their PenCott GreenZone and BadLands products have been in use with a number of  special operations units – both at home and overseas.
The Sabre Ghostwalker Gear line is made from US-produced, milspec, durable-water-resistant-finished, 50/50 NyCo ripstop and water-proof 500D Cordura Nylon fabrics.  And these professional-level garments feature a comprehensive set of features and pockets to deliver the performance – and carry the gear – to accomplish even the most demanding missions.